Our core competence is value investing
Focus on investment expertise
As we've followed the numerous emergences of digital asset managers and robo advisors over the past few years, it quickly became clear to us that digital investing is an excellent way to have assets managed in a straightforward and cost-effective way. We were also impressed by the transparency of most providers – no hidden fees, no fine print. A breath of fresh air in the financial industry. Lediglich in einem Aspekt konnte uns keiner der bestehenden Dienstleister überzeugen. K
aum einem Anbieter gelang es, mit seiner Anlagestrategie überdurchschnittliche Renditen zu erzielen. Sprich: Sie hätten Ihr Vermögen genauso gut selbst in einen Aktienindex (z.b. DAX) investieren können, und dabei die gleichen Renditen wie die meisten Anbieter erzielt (und sich zusätzliche Kosten gespart).
An diesem Punkt wollen wir uns vom Rest des Feldes abheben. Unser Ziel ist es, langfristig besser als unsere Vergleichsbenchmarks zu performen.
Andreas Wagner
Managing Director & Partner
Over 20 years of experience in asset management and international private banking. Degree in business administration (MBA) and training as a financial planner.
Markus Prodinger
Managing Director & Partner
Specialised in portfolio management, portfolio analyses, and support for upscale private clients. Degree in economics (B.Sc.)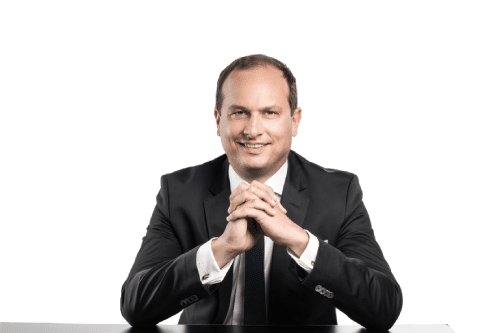 Ralph Früh
Chairman of the Board of Directors
Chief Analyst and Managing Director of the Spanish media and consulting company GEOPOLITICAL.BIZ. Many years of experience in banking and consulting, author and member of the German Association of Specialist Journalists.
Roland Müller
Board of Directors
Attorney-at-law and Partner at Müller & Partner Attorneys at Law. Member of the Liechtenstein Chamber of Lawyers and Vice President of the European Lawyers Group (ELG). Study of law (Dr. iur.)